This is where it starts for everyone. Successful completion of the CBT gains you a CBT certificate (also known as a DL196), which entitles you to ride low powered machines (50cc for 16 year olds, 125cc for 17 years and over) with L-plates for 2 years.

There are 5 Elements to the CBT course, which is structured by the DSA, these include theory (but no written work!) as well as practical riding in our safe off-road area.

This is a course of continuous assessment with students only moving on to the next stage when they have satisfactorily completed the previous one.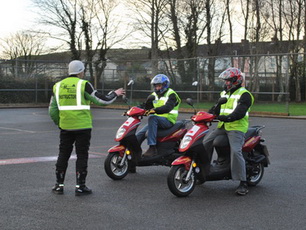 So there is no test as such, but the course does conclude with a road-ride with an instructor in radio contact to ensure the lessons of the day are put into practice on the road. When the course is successfully completed a CBT certificate is issued.
If you are under 17 years old, or if you only want to ride a 125cc bike and aren't planning on using motorways or carrying passengers then a CBT is all you need, and you don't even need to take a separate Theory Test!
If you've never ridden at all before and want to do a CBT on a geared bike we recommend our £20 Taster session as a gentle one-to-one introduction to biking before taking your CBT.
Checklist:
Once you have booked onto this course remember to check the following before coming along...

Bring your driving licence (both the paper counterpart and the photo card), we cannot run the course for you without both of them. If you have an old-style paper-only licence please bring a current, valid passport as photo-ID.

Wear jeans (or motorcycle trousers if you have them)
Wear boots (ideally motorcycle boots, if not then a pair of stout lace-up walking boots, avoid steel toe-capped ones.
Read The Highway Code (it's only £2.50!), it not only tells you what you should be doing but helps you anticipate the actions of other road-users too. A packed lunch may not be a bad idea as it is an all-day course.

Cost of CBT £105